How To Get a Florida Drivers License
If you are a Florida teen who is ready to get your first learner license or a driver from out of state who is planning to move to Florida, you've come to the right place for information about how to get a Florida drivers license.
Each Florida driver license must be issued by the Florida Department of Highway Safety and Motor Vehicles (DHSMV). Apart from their main office in Tallahassee, DHSMV has many offices (called Florida driver license offices) throughout the state. Driver licenses are also issued in many tax collector's offices.
This page, sponsored by DriverLicenseSchool.com, explains exactly how to get a Florida drivers license.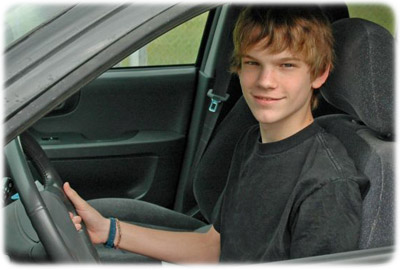 "When you need to know how to get a Florida drivers license, Driver License School.com is the place to go. They not only provided me with helpful information, but I also used them to take my drug and alcohol course and learners license test on the internet."
– Randall C., Cedar Key
Florida Teens Prefer the START Course
Log in and out whenever you want
Study on your schedule
Videos and animations
No classroom lecture
No books to read
Written specifically for teens
Great customer support
Forms of ID
It takes about one hour on average to get a Florida driver license. You will need to present two forms of ID to the Florida license examiner.
Primary ID:
Birth certificate
Valid passport or certificate of naturalization
OR
Secondary ID:
Baptism certificate
Voter registration card (at least three years old)
Marriage certificate
Other public document with your name on it
A driver's license issued in any of the following U.S. states: Alaska, Connecticut, Hawaii, Illinois, Indiana, Iowa, Michigan, Minnesota, Nebraska, New Jersey, North Carolina, Oregon, Rhode Island, Tennessee, Texas, Utah, Vermont, Virginia, Washington or Wisconsin
Documents Required for Non-U.S. Citizens:
Alien Registration Card
I-551 stamp on passport
I-797 with customer alien number indicating that the individual has been granted asylum or has refugee status
Florida Learners License Course
Florida teens or other Florida residents who have never had a driver's license must complete a State approved Florida drug and alcohol course before a learners license will be issued to them. Other common names for this course include drug and alcohol class, learner permit course, driving learner permit course, and traffic law substance abuse education course.
We recommend taking the Florida learners permit course online on this website. Click here to register for the course. You can take the course before you turn 15.
Here are some additional facts you'll need to know about how to get a Florida drivers license.
Required Tests
Tests that might be given during the application for a Florida driver license include the following.
NOTE: You must pass ALL of these tests if you are a Florida first time driver.
Hearing – Drivers applying for a license who are deaf, or cannot hear conversation spoken in a normal tone of voice, are restricted to driving with an outside rearview mirror which should be mounted on the left side of the vehicle, or wearing of a hearing aid.
Vision – Vision testing, using an eye machine located on the counter, is conducted in all driver license offices. Visual acuity readings worse than 20/40 are referred to an eye specialist. Color blindness will not cause any special condition for licensing.
Road Signs and Road Rules – consists of 50 questions regarding road signs and road rules, with multiple choice answers. (You need to study the Florida Drivers Handbook before taking this test.) The Florida Road Rules and Road Signs Test can be taken online at DriverLicenseSchool.com.
Driving Test – You must provide a vehicle for the driving test. The vehicle must have a valid tag, proof of insurance, and pass a vehicle inspection. During the driving test, the examiner will observe your ability to control the vehicle and how well you obey traffic laws.
If you are an out-of-state driver with a valid license and you simply want to apply for a Florida driver license, you will only be required to pass the hearing and vision tests.
Minimum Age
The minimum age to apply for your Florida learner license is 15.
When you are ready to upgrade from your Florida learner license (Class E learners license) to an operator's license, you will be required to comply with the following requirements:
You must have held your Florida learners license at least one year.
You must not have had any traffic violations during that time.
Your parent or guardian must verify that you have had at least 50 hours of driving time, at least 10 of which must have been at night.
Florida Driver License Fees
The fee for a first time driver license in Florida is $48. The cost to renew a Florida driver license is also $48.
Driver License Office Hours and More Information
Florida driver license office locations are generally open from 7 AM to 6 PM Tuesday through Friday. Some offices are open Monday through Thursday. Click here for a complete listing of all Florida driver license office locations. Drivers can use DHSMV's Oasis system to make an appointment online.
For further information about the process of how to get a Florida drivers license, you can visit the Florida Department of Highway Safety and Motor Vehicles website.
Click the "GO" button to register for your Florida drug and alcohol course.
1-800-222-9199