State of Florida Approved Learners License Test
Our company was among the first in Florida to provide the online Class E road rules and road signs test that has been completed by thousands of Florida teens. Our online test is fully approved by the Florida Department of Highway Safety and Motor Vehicles, the state authority that regulates online learners license testing.
When you take your test with DriverLicenseSchool.com, you can be confident that you are getting the legitimate Florida learners license exam offered by a company with nearly four decades of experience assisting Florida drivers.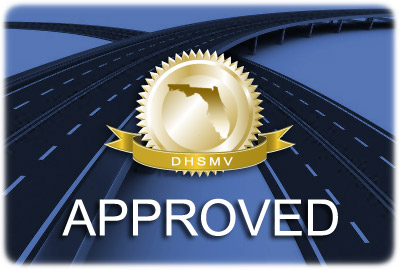 "This really is the best way to take the online driver license test.
– Luke D., Apopka
Why Take Your Test Online?
The answer to this question for most Florida teens is convenience. If you take your learners license test at the Florida driver license or tax collector's office, you will be there for a longer period of time than if you were to complete your test online.
Another reason many teens take the test online is that they can take it in a quiet, friendly environment where distractions are limited. Driver's license and tax collector's offices can sometimes be noisy and crowded. It can be difficult to concentrate on test questions in that type of environment. You certainly don't want to fail your test and have to go back and take it again!
DriverLicenseSchool makes it easy for first time drivers to get the road rules and road signs test out of the way so that they can put that big obstacle behind them.
If you'd like to take your Florida learners license test online with us, just click the GO button below.
State of Florida Approval
1-800-222-9199