The #1 Choice for Florida Teens
Standing in line to take your Florida learners license test is a thing of the past. Most teens now take their Class E road signs and road rules test online because it is more convenient and less stressful than taking the test at the local tax collector or driver's license office.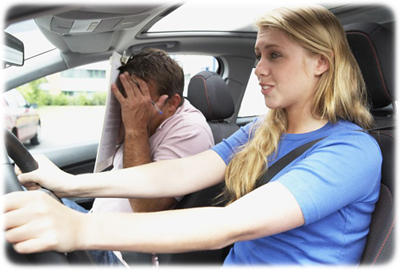 "I passed my learners license test online the first time with Driver License School!"
– Janet H., Fort Lauderdale
In order to reduce the lines at Florida driver license offices, the Florida Department of Highway Safety and Motor Vehicles created a new program in which private companies can offer the Class E road signs and road rules test on the Internet. Since the program began several years ago, hundreds of thousands of Florida teens have passed their learners license test online.
There are several reasons for the popularity of the online testing program.
Saves time by not having to wait in line
Saves gas by not having to drive to the driver license or tax collector's office
Allows you to take the test in a more comfortable environment
Involves parents in the testing process
Lets you test even when the driver license office is closed
With our easy to use testing interface, you'll be able to complete your test quickly and with no hassle!
Please note: The online learners license test is proctored, meaning that your parent or guardian must monitor you while you are taking the test. The test is graded automatically by DHSMV when you submit your answers. You will know immediately whether you have passed or failed.
While it happens very rarely, some students are randomly selected for re-testing at the driver license office even if they pass their test online. This is to ensure that the security measures of the online testing program are not being circumvented.
Click the GO button to begin taking your Florida learners license test today.
1-800-222-9199