Learners License Test Details
If you are like most other Florida teens, you can't wait to get your Class E learner's license and begin driving. However, before you can do that, you have to prove to the State of Florida that you know the rules of the road and can safely operate a motor vehicle.
One thing you will have to do before you can get your hands on a driver license is take the road signs and road rules test. Over the past few years, more and more Florida teens have been taking their learners license test on the Internet with DriverLicenseSchool.com.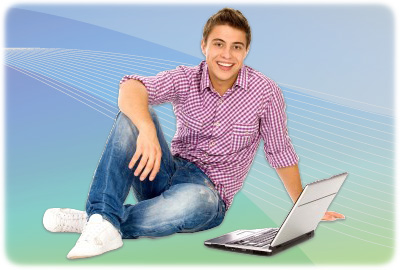 "Your online learners license test helped me avoid that long line at the DMV."
– Russell F., Gainesville
What the Learners License Test Is Like
The online learners license test is the same test that you would take in person at a Florida driver license or tax collector's office. It consists of 50 questions on Florida road rules and road signs. You will be given about a minute to answer each question. If you do not submit your answer before time is up, that question will be counted as failed.
When you register for the test, you will be asked several personal security questions (for example: Do you attend public school?). While you are taking the test, these personal security questions will appear randomly in between the test questions and you must provide the same answer you gave during registration. The purpose of the personal security questions is to make sure the person taking the test is the same person who signed up for the test.
You are only allowed to attempt the online test three times and you must pay a separate fee each time. If you fail the online test three times, you will be required to make any further attempts in person at a Florida driver license or tax collector's office.
Important Note: As a security measure, the DHSMV will sometimes randomly re-test students who have received a passing score on their online test. This does not happen very often. During registration, you must acknowledge that you agree to this condition or you will not be permitted to take your test online.
How Your Score Is Reported to DHSMV
Your passing or failing score is reported electronically to the Florida Department of Highway Safety and Motor Vehicles (DHSMV). After each test question, you will know whether you answered the question correctly or not by looking at the tally of correct / incorrect answers.
If you pass the test, you can go to the driver license office to apply for your learner's license or other type of driver license. When you go to the driver license or tax collector's office, the examiner will look up your test score in the State's database, so you are not required to take any paperwork with you. (However, we recommend that you print out your pass confirmation page and take it with you in case there is a technical problem that prevents the examiner from being able to look up your completion.)
In addition to passing the road rules and road signs test, you must meet other criteria before you can obtain a Florida license. To review these criteria, please visit our page on how to get a Florida Driver's License.
You can click the GO button to register for your Florida learners license test right now!
1-800-222-9199